Let's face it, when it comes to Caribbean living, it's all about those soul-lifting sea views and the soothing sound of the waves lapping the beach. What could be better than casting open the doors of your home and stepping onto sugary soft sand for a dip in the warm water before breakfast? Or bringing home your catch-of-the-day to grill up a feast with friends and family, ice cold drink in-hand? Whether you've got your heart set on stunning stand-alone beachfront Homes for Sale in the Caribbean, a cutting-edge condo or a show-stopping estate just footsteps from the waves, there are plenty of beachfront retreats up for grabs across the Caribbean.
From Piton-view properties on St Lucia to ultra-luxe lodgings on Anguilla, we bring you the hottest shore-hugging homes. Here's the cream of the crop…
1. Beachfront Homes for Sale in Placencia, Belize
Tropical Modern Living in Breezy Belize
Offered at: From US $325,000
These final remaining one- to five-bedroom homes hugging Belize's Caribbean coast in pretty Placencia feature naturally-chic details and swoon-worthy plunge pools enveloped by beautiful tropical gardens.
Nestled within one of the world's most highly anticipated resorts with its own state of the art spa offering Maya-inspired treatments, a farm-to-table restaurant serving fresh, local cuisine, a private rum room and a full service marina, a home here means you are a stone's throw from wild jungle terrain, hidden caves and the beautiful Belize Barrier Reef.
Best of all, these villas have been fully furnished in a cool tropical modern style using (thoroughly updated and refreshed) Central American patterns and custom crafted furniture made from local hardwoods – the vision of celebrated interior designer Sam Amoia, one of the world's hottest interior design talents.
View property details: Hotel Cottages for Sale in Placencia, Belize.
Discover more: Real estate for sale in Belize.
2. Beach Houses for Sale in Middle Caicos, Turks & Caicos Islands
Beach House Bliss
Offered at: US $368,000
Located within a 12-acre boutique resort with a private clubhouse, restaurant and bar on tranquil Middle Caicos, lined by an arching stretch of pristine pink-hued sand, these minimalist eco-homes feature contemporary sleek lines, natural finishes and open-plan living areas. Floor-to-ceiling sliding doors reveal striking views of the beach and turquoise waters beyond.
Helping to minimise the impact on the environment, the beach houses incorporate the latest cutting-edge technology, such as rainwater harvesting and solar power systems. A management and rental program will also relieve owners of the worries of maintaining the property when not on island and help to generate income by placing the property into the resort's rental pool.
With two-bedroom beach units available from US $368,000, these beach houses offer a rare opportunity to purchase a more modestly priced home in one of the world's most coveted beach destinations.
View property details: Beach Houses for Sale in Middle Caicos, Turks & Caicos.
Discover more: Real estate for sale in Turks & Caicos.
3. Beachfront Condos for Sale on Meads Bay Beach, Anguilla
A-Class Abodes in Anguilla
Offered at: From US $750,000
Designed by an award-winning architect, these beachfront condos on the tiny island of Anguilla have modern-luxe written all over them. Just 18 one- and two-bedroom units are available.
Part of a charming development that sits on the soft white sands of much-loved Meads Bay Beach, the condos benefit from access to a pair of 30-foot swimming pools plus a state-of-the-art gym.
One of the most desirable parts of the island for real estate investment, it's no wonder that Anguilla's top restaurants, the renowned Greg Norman championship golf course and several of the island's most ravishing hotels including Malliouhana and the Four Seasons are located nearby. Did we mention the Jacuzzis on the private terraces? Sold!
View property details: Beachfront Condos for Sale in Anguilla.
Discover more: Real estate for sale in Anguilla.
4. Beach Houses for Sale in St Philip, Barbados
The Ultimate Getaway
Offered at: From US $1,986,000
Introducing a rare chance to snap up a jaw-dropping holiday home at pre-construction pricing on what is the most tranquil, unspoiled strip of Barbados' eastern coastline. These light, airy, open-plan beach houses form part of a small community of laid-back luxury hideouts overlooking sleepy Skeete's Bay Beach in St Philip. A far cry from the intensely developed west coast of the island, this community will deliver a high level of seclusion within the only large parcel on the eastern coast not to be designated as protected national park.
Each house sits on approximately 8,900 square feet of grounds and benefits from a glittering infinity pool and hot tub – the ideal vantage point from which to savour the sweeping views along the ruggedly beautiful Atlantic coast.
The highlights? Elegant contemporary architecture, a true 'get away from it all' setting, sweeping coastal views and access to world-class amenities including two restaurants, spa and tennis court courtesy of the developer behind one of Barbados' leading resorts.
View property details: Beach Houses for Sale in Barbados.
Discover more: Real estate for sale in Barbados.
5. Beachfront Condominium Residences for Sale in Rio Grande, Puerto Rico
The Perfect Pad in Puerto Rico
Offered at: From US $2,870,265
Apartments don't come much grander than these beauties located on a two-mile palm-tree-dotted stretch of Puerto Rico's northern coastline in Rio Grande.
With all the conveniences of a five-star hotel – concierge service, in-residence dining and housekeeping provided by the St Regis hotel – these three- to four-bedroom beachfront luxury apartments had us at 'hello'.
Throw in ground-breaking design by the forward-thinking Miami-based company SB Architects, exquisite interiors with top of the line finishes and spa-inspired bathrooms, conveniences such as private elevator access and panoramic views of the barrelling Atlantic Ocean, and this really is indulgent oceanfront living at its most seductive.
View property details: Beachfront Condominium Residences for Sale in Puerto Rico.
Discover more: Real estate for sale in Puerto Rico.
6. Beachfront Villa for Sale in Puntacana Resort & Club, Dominican Republic
Opulent Escape
Offered at: From US $4,900,000
Nestled within an acre of dense tropical greenery, this elegant home is a masterpiece of contemporary design.
When you're not taking a walk on the beach (just steps away) or teeing off on the spectacular P.B. Dye-designed La Cana Golf Course, you can relax in style in this property's spacious living rooms.
Spanning 11,410 square feet, the property features five bedrooms, six bathrooms, two kitchens, as well as separate staff quarters with two bedrooms. Even more impressive is the huge pool-side palapa – perfect for al fresco dining or sipping Piña coladas in the shade while gazing at the glorious beach views. Did someone say 'pool party'?
With the beach, golf club, restaurants, bars and all the other amenities of the world-famous Puntacana Resort & Club practically on your doorstep, this bombastic beach house is hard to beat?
View property details: Beachfront Villa Residences for Sale in Puntacana Resort & Club, Dominican Republic.
Discover more: Real estate for sale in the Dominican Republic.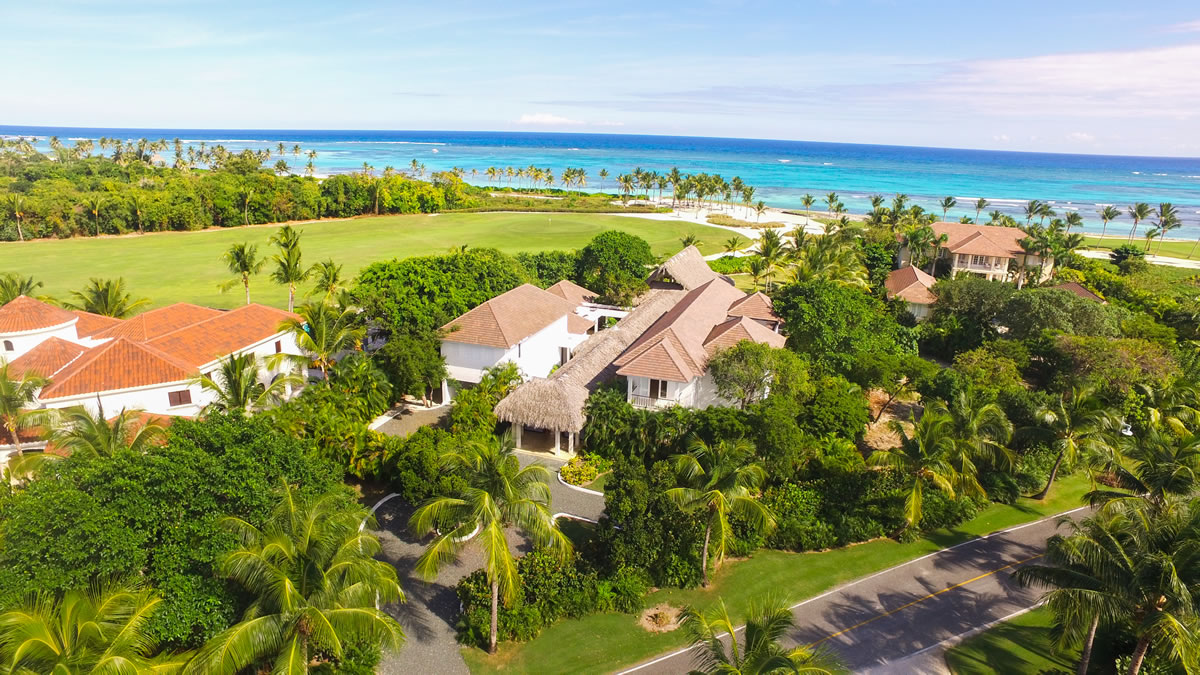 7. Luxury Beachfront Residences for Sale in Val des Pitons, St Lucia
Sleek Sanctuaries in St Lucia
Offered at: From US $8,250,000
The pinnacle of luxury beachfront living, these jaw-dropping four- to five-bedroom residences are as sumptuous (and as sexy) as it gets. Situated within a private enclave of a 100-acre trendsetting resort near Soufriere with unrivalled views of the twin spires of the majestic Pitons rising dramatically from the reef-filled Caribbean Sea, these are without question some of the most desirable homes in the world.
Fringed by immaculate talcum-powder-white sand with a backdrop of dense rainforest, each residence comes with uninterrupted views of the beach, the sea and the Pitons enjoyed from the privacy of a shaded timber deck complete with dining gazebo and infinity pool.
Services include dedicated butlers, 24-hour concierge, in-residence dining and chauffeured shuttles, complemented by a highly acclaimed rainforest spa, world-class restaurants, gym, tennis courts, kids club and scuba dive center.
View property details: Luxury Beachfront Residences for Sale in St Lucia.
Discover more: Real estate for sale in St Lucia.
Which Island is Calling your Name?
Whatever your budget, there's scope to achieve real wow factor with a beautiful beachfront home. The only question is, which Caribbean island is calling your name?
For details on all these beachfront homes for sale in the Caribbean and many others located right on the beach, contact 7th Heaven Properties.
This article was originally published in Issue 7 of The Caribbean Property Investor magazine.